Feb 19
Sky Report: February 20 – 26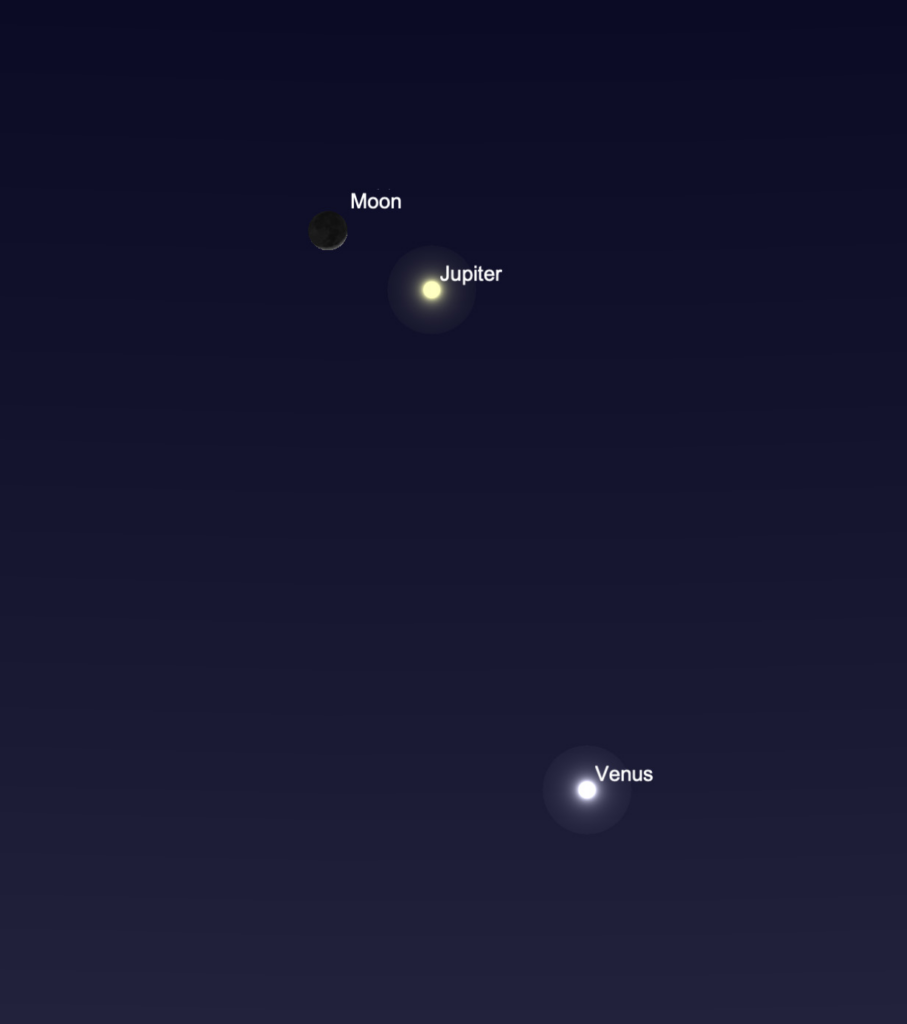 This week and next there is a lot of action between the moon and planets because the three brightest planets are all in the evening sky and the moon passes each in turn – plus a wonderful planetary conjunction is coming up. These two weeks have more great conjunctions than is reasonable to expect, so this is a superb time to monitor the sky nightly and see changes happen as you watch. Such an opportunity will not soon come again so be sure to be out with your binoculars, or your eyes, taking it all in. A principle I refer to again and again is that events in the sky are not individual unrelated happenings, like items in a list, but are the result of continuous motions of the earth, moon, and planets that you can observe and appreciate if you know what to look for (that's my job) and go out and look (that's your job).
So as the week begins we have the two brightest planets in the west: brilliant Venus and above it nearly-as bright Jupiter. You've been watching Jupiter set a few minutes earlier each night and Venus set a few minutes later, and their motions are carrying them on a near-collision course. You've been watching Venus approach Jupiter, and on the 20th they're 9° apart – a bit too far apart to see them together in binoculars. But their relative motion is quite rapid. Estimate when Venus will pass Jupiter – that's next week — and enjoy monitoring them on their "near-collision course.
Meanwhile the crescent moon passes both. On the 21st the very thin crescent moon, only 2 days past new, is 5° below Venus. It's not as bright as Venus! Look about 45 minutes after sunset.
One day later, on the 22nd, the moon has moved 1/27th of the way around the sky. Now it's noticeably fuller (10% vs. 4%) – and it's 1-2/3° from Jupiter in a great conjunction to the eye and binoculars. This will be a photo opportunity if sunset colors linger.
By the 26th the almost first-quarter moon has moved to a position 13° below Mars, and if you remember that the moon moves very nearly 13° (1/27 of 360) eastward in its monthly circuit of the earth, you can predict a conjunction of the two on the next night, February 27. That happens in the first day of next week's Sky Calendar but I mention it here so you can put it on *your* calendar: that Monday night Mars will lie just over 1°, or just over 2 moon diameters, to the left of the moon in another very nice conjunction.
So there's an abundance of conjunctions in February. Let's hope for clear skies.
I said I wouldn't mention it again, but Comet C/2022 E3 is still visible in any telescope, and it will be until the moon becomes too bright next week. You'll find it immediately to the west of Orion in southern Taurus. It'll be the brightest comet of 2023 unless a new one unexpectedly appears.
---
The Sky Report is presented as a public service by the Stellar Vista Observatory, a non­profit organization based in Kanab, Utah, which provides opportunities for people to observe, appreciate, and comprehend our starry night sky. Additional information is at www.stellarvistaobservatory.org. Send questions and comments to John@StargazingAdventures.org.
Stellar Vista Observatory provides portable telescopes and tripod mounted binocular kits on loan for free to residents and visitors in Kane County. Enhance your enjoyment of the night sky! To learn more, request a loan, or attend one of SVO's free public star parties for 2023, visit https://stellarvistaobservatory.org/ or drop in to the Kane County Office of Tourism.