Jan 7
Sky Report: January 9 – 15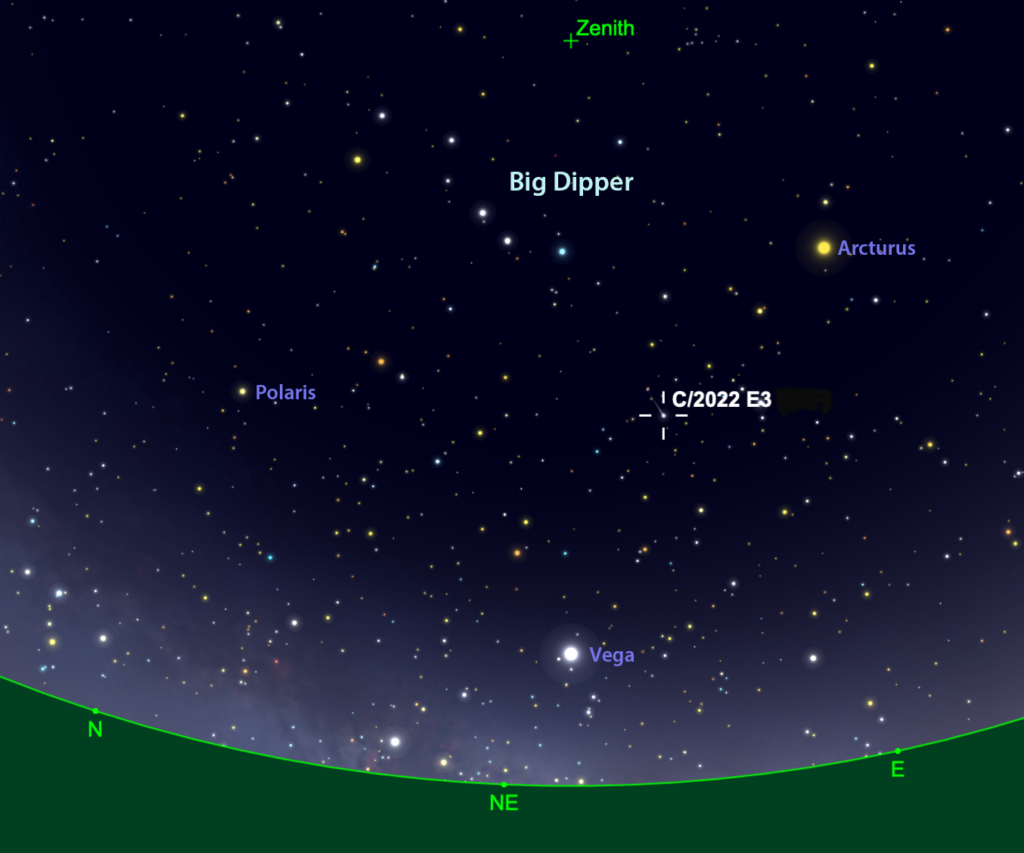 It's notoriously hard to predict the brightness of a comet far in advance as each one has its own composition, orbit, and characteristics, but there's an excellent chance that a comet discovered less than a year ago will become bright enough to see with binoculars, certainly with a small telescope, and possibly even to the naked eye. The only negative is that it's in the morning sky. It's "Comet C/2022 E3", and the best time to see it is around 5 a.m., before dawn, when its 50° straight to the right of the North Star, in the northeast. If you Google its name you'll be rewarded in tenths of a second with the story of its discovery, its orbit, and its predicted behavior with more details than any person could absorb. My function is to call it to your attention and provide local circumstances.
First, it's a faint smudge possibly with a short tail, and the most you can do is claim to have seen it; you can add it to your collection. It's not going to dazzle and it won't make for good photos above the local landscape. But it will move and change its appearance very slightly from night to night. It's fun to follow its progress; to watch it move while it brightens and then fades.
My map below gives its approximate position and is only useful for general orientation. Use a map online you find with Google or far better an app like Sky Safari (which is the one I use). This week the moon is awfully bright, but it's third quarter on the 14th and until roughly the 17th its bright light interferes, but after then and for the next two weeks the sky is properly dark – if you're in a dark location.
Visible at a more convenient time are the three brightest planets Venus, Jupiter, and Mars, in order of declining brightness and from west to east. They're roughly equally spaced, about 60° from the other with Jupiter in the middle. Venus is low in the west; look for it about 40 minutes after sunset.
Much fainter Saturn is to the upper left of Venus. Watch Venus approach the fainter planet night by night. On the 15th they're 8° apart and closing rapidly. Can you estimate when Venus will pass Saturn?
As twilight ends Jupiter is halfway up the southwestern sky. It easily outshines everything else in the sky (except Venus) so it's obvious.
At the same time Mars is halfway up the eastern sky, balancing Jupiter in the southwest. Mars rivaled Jupiter in brightness only six weeks ago but now Mars is one quarter as bright as Jupiter and half as bright as Sirius, the brightest star, which rises below Mars (and below Orion) at the end of evening twilight. The earth is leaving Mars behind as we speed away in our faster orbit. Watch Mars fade week by week, although it remains visible in the evening sky until mid-summer.
---
Stellar Vista Observatory provides portable telescopes and tripod mounted binocular kits on loan for free to residents and visitors in Kane County. Enhance your enjoyment of the night sky! For details or to request a loan, visit https://stellarvistaobservatory.org/discover-the-night-sky/ or drop in to the Kane County Office of Tourism.
The Sky Report is presented as a public service by the Stellar Vista Observatory, a nonprofit organization based in Kanab, Utah, which provides opportunities for people to observe, appreciate, and comprehend our starry night sky. Additional information is at www.stellarvistaobservatory.org. Send questions and comments to John@StargazingAdventures.org.