May 21
Sky Report: May 23-29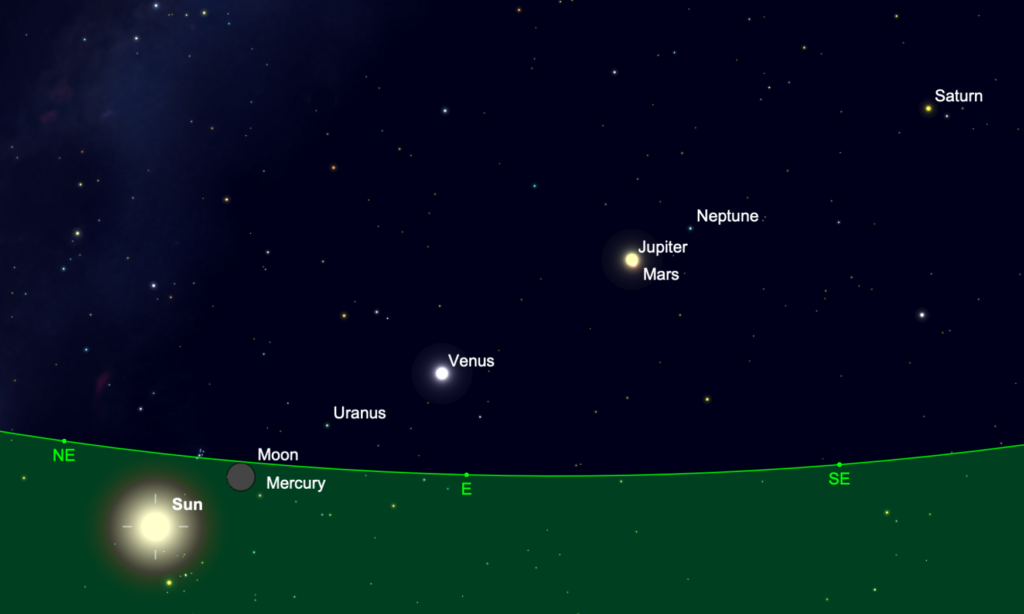 As has been true all spring, the action remains in the morning sky because that's where the planets are, and this week the moon joins them. The sun has been rising earlier each day so now you have to get up fairly early to see a still-dark sky, but it's worth it.
Look 45 minutes before sunrise and you'll see brilliant Venus which is very low and due east. It's only about 10° high so trees and hills may block the view. Venus is moving around behind the sun, moving very slowly eastward against the background stars, and each morning it rises earlier and becomes progressively harder to see.
Jupiter is about 25° to the upper right of Venus. Remember that the width of your fist held at arm's length is about 10°. Jupiter is the second brightest thing in the night sky, other than the moon, so you can't miss it. It's 1/5th as bright as Venus and far brighter than any star.
What is most interesting is Mars next to Jupiter. Mars is 1/20th as bright as Jupiter. Both planets move west to east against the background stars as they orbit the sun (except when we pass one, and it temporarily seems to reverse course and goes into retrograde motion). Jupiter is more distant, it feels the sun's gravity less, and so it moves slower – and Mars catches and passes Jupiter. Mars has been approaching Jupiter all along, and on May 28, 29, and 30 it's less than 1° from Jupiter and both will be visible together in a low-power telescope eyepiece. The two planets will be closest on the 29th when Mars is 35' (35 arcminutes) or ½° below Jupiter. You'll see the two together in most binoculars from roughly the 17th until roughly June 10th, depending on the field-of-view of your binoculars. This is another – and the last! – in a series of fine early morning planetary conjunctions this spring. The planets then separate.
The moon passes near these planets. On the 22nd it was below Saturn, and on the 24th and 25th it's near Jupiter and Mars – on the 25th so close that you will see all three in wide-angle binoculars. On the 26th and 27th the moon is close enough to Venus to see both in most binoculars, especially on the 27th when they're less than 5° apart and form a pretty pair in binoculars or by eyes alone. On that morning the moon is the slimmest of crescents only 8% illuminated by the sun, and it'll be 3° lower than Venus, and an interesting sight just above trees and hills in the foreground. As they rise higher and the sky brightens farther, which will remain easiest to see and which will disappear first?
Mark your calendar for 11:00 on the evening of Monday, May 30, when the Tau Herculid meteors MAY (or probably won't) put on a spectacular show. You can Google them now, and I'll have more on them next week.
---
Through a 2021 grant from the Utah Governor's Office of Economic Opportunity and the Kane County Office of Tourism, Stellar Vista Observatory provides portable telescopes and tripod mounted binocular kits on loan for free to residents and visitors in Kane County. Enhance enjoyment of the night sky! For details or to request a loan, visit https://stellarvistaobservatory.org/discover-the-night-sky/ or drop in to the Kane County Office of Tourism.
The Sky Report is presented as a public service by the Stellar Vista Observatory, a nonprofit organization based in Kanab, Utah, which provides opportunities for people to observe, appreciate, and comprehend our starry night sky. Additional information is at www.stellarvistaobservatory.org. Send questions and comments to John@StargazingAdventures.org.