Sep 26
Sky Report: September 27-October 3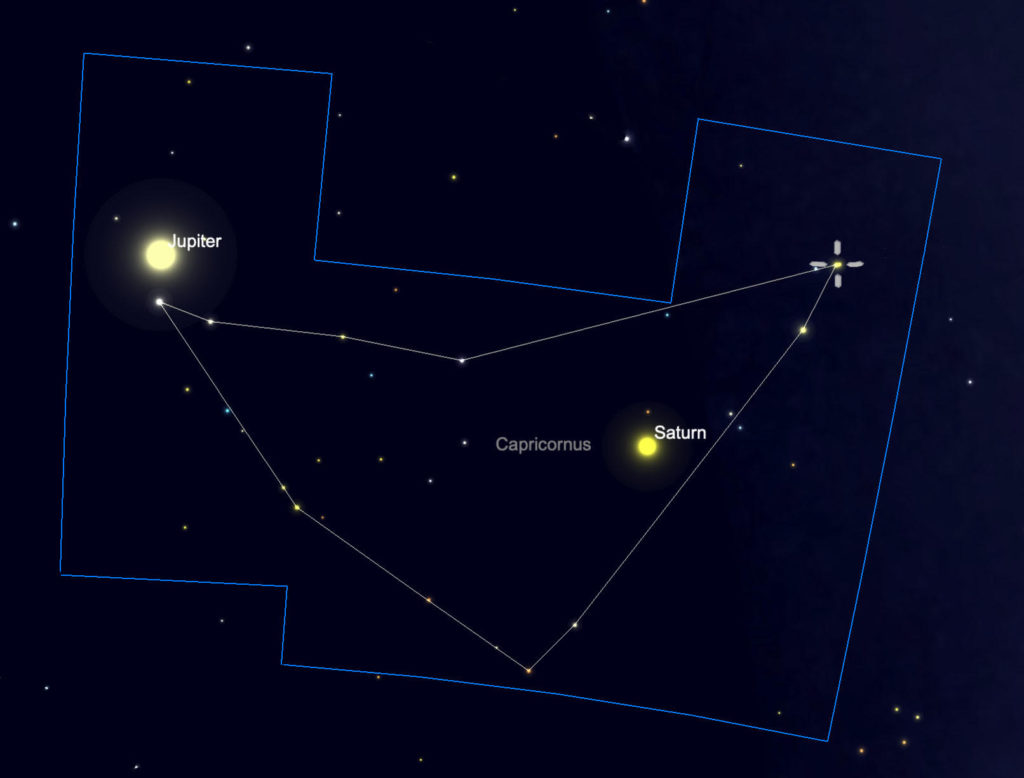 Beginning with planets, Venus, being the brightest, is the first to appear. Look for it low in the west for the hour or so after sunset. It's so bright you can see it long before the sky is fully dark if you know where to look, and it's even easier if you use binoculars. Venus is farther than the sun and telescopically is rather small; it'll appear much larger later this year when it's closer to earth.
Jupiter and Saturn are both in Capricornus and they help you identify it. Capricornus is a "sea-goat" in Mesopotamian cosmology, an odd combination of two very different animals, a goat and a fish, but the Mesopotamians were fond of inventing such hybrid creatures. I see it as a large triangle or perhaps the keel of a boat. Jupiter is at the east end and Saturn at the west. Refer to the attached diagram
Jupiter and Saturn will separate once the earth finishes passing them and Jupiter resumes its eastward motion. Jupiter leaves Capricornus in mid-December and they won't be in the same constellation again until November of 2039 when they're in Virgo.
To astronomers, Capricornus is the area within the thin blue lines that mark its boundaries.
The star Alpha in Capricornus is a nice naked-eye double star – two stars that appear close together. Look closely and if you have normal vision you should see two stars separated by about 1/6°. The slightly fainter star at right is 5 times more distant than its neighbor so they're not a physical pair, just a chance alignment. It's marked with target lines.
The sun is just now coming out of its period of minimum activity in its 11-year sunspot cycle and is starting to become active again. That means a possibility for the northern lights or aurora borealis, although Utah is too far south to see them except on the rarest of occasions. Still, if you'd like to follow the northern lights and perhaps alert friends and family who live north of us, go to the University of Alaska's Geophysical Institute page at https://www.gi.alaska.edu/monitors/aurora-forecast and check the current forecast. Auroras will be more frequent and stronger at the peak of the cycle in about four years.
The Milky Way passes straight overhead at around 9 and stretches from the southwest to the northeast. Notice how much wider and brighter is the southern part than the northern.
---
Under a grant from the Utah Governor's Office of Economic Development and the Kane County Office of Tourism, Stellar Vista Observatory offers portable telescopes and tripod mounted binocular kits on loan for free to all residents of Kane County. Nothing beats a quality binocular or astronomical telescope to enhance enjoyment of the night sky! Visit https://stellarvistaobservatory.org/discover-the-night-sky/ or Kanab City Library for full details.
The Sky Report is presented as a public service by the Stellar Vista Observatory, a nonprofit organization based in Kanab, Utah, which provides opportunities for people to observe, appreciate, and comprehend our starry night sky. Additional information is at www.stellarvistaobservatory.org. Send questions and comments to John@StargazingAdventures.org.