Dec 13
Sky Report: December 14 – December 20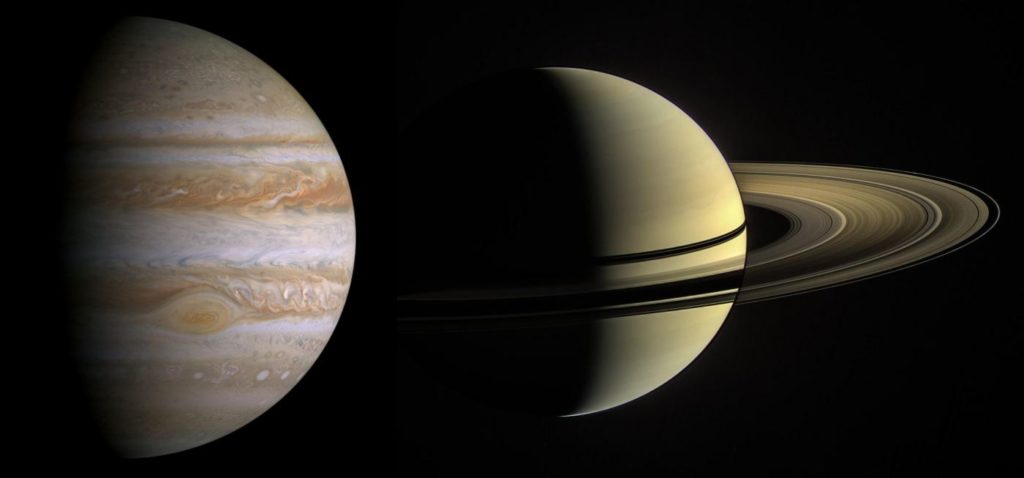 The best naked-eye "event" of the year is happening now, although as I repeatedly stress, much that happens in the sky is a process that happens over an extended period of time rather than an event that happens on one night only. Examples are the close approach of Mars this fall, Comet NEOWISE this summer, and the Jupiter-Saturn conjunction that is happening now. Even better is that you can enjoy the conjunction with your eyes alone, with binoculars, and with any telescope.
Look low in the southwest about 45 minutes after sunset and you'll see the bright planet Jupiter. Fainter Saturn is just above.
Jupiter and Saturn orbit the sun, normally moving from west to east as seen from earth, and Jupiter travels faster because it's closer to the sun and feels the sun's gravity more strongly. Jupiter has been approaching Saturn for months and it passes Saturn on Monday the 21st. That's the night when they're closest, and the news media will focus on that night as if no other night matters. But the point is that they are already very close and they'll remain unusually close through the end of the year.
On the 14th Saturn is ¾° above Jupiter. For scale, the diameter of the moon is only ½°, and from the 14th you could cover both planets together with your little fingernail! But Jupiter is moving closer, and on the 20th they are only 1/8° apart and they will look like a double planet. People with good eyesight will see them as two objects, but you may have to squint to see them as separate. Any telescope will show them sitting together, side-by-side, along with Jupiter's four large moons. On the 21st they are at their closest – only 1/9th of a degree – but don't wait until the 21st to look at them! Be watching them all week, and then all next week as they slowly separate. They won't be this close again until 2080, so for most of us this is a once-in-a-lifetime opportunity.
Google "Jupiter Saturn conjunction" for much more information including graphics.
On the 16th the thin crescent moon is 5° below the double planet and you might see both planets and the moon together through wide-angle binoculars.
Bright Mars is high in the southeast at the same time, and even brighter Venus is very low in the southeast during morning twilight.
Image Credit: NASA/JPL/University of Arizona/Space Science Institute
---
The Sky Report is presented as a public service by the Stellar Vista Observatory, a nonprofit organization based in Kanab, Utah, which provides opportunities for people to observe, appreciate, and comprehend our starry night sky. Additional information is at www.stellarvistaobservatory.org. Send questions and comments to
John@StargazingAdventures.org.