Sep 19
Sky Report: September 26-October 2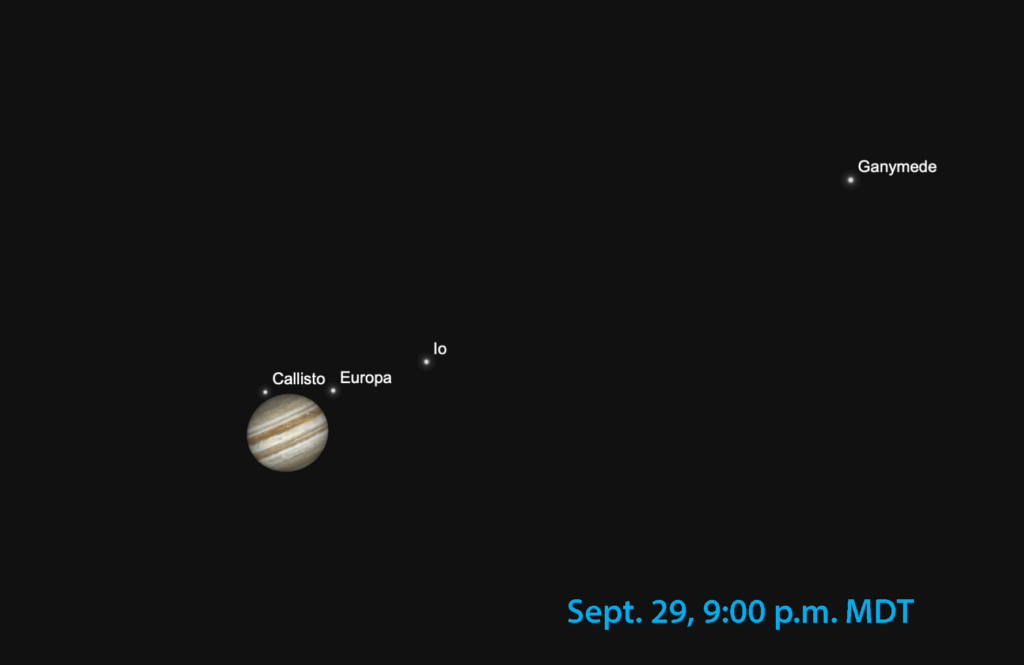 For a while last spring there were no planets in the evening sky. Now we have three: two that are out from sunset while a third rises before midnight.
As the sky is growing dark notice Saturn, almost 1/3 of the way up the southeastern sky. Saturn is in Capricornus, in a section of the sky with no bright stars, so you can't miss it. Notice its soft pale-yellow color. Saturn doesn't set until about 3 a.m.
Brilliant Jupiter lies precisely opposite the sun on the 26th, so it rises in the east as the sun sets in the west. This is the date when Jupiter is closest to the earth at 367 million miles, although its distance doesn't change enough through the year to matter.
On the 29th the spacecraft Juno, which has been in orbit around Jupiter since 2016, passes only 220 miles above the surface of Jupiter's moon Europa, the closest a spacecraft has come to this fascinating moon in 22 years. Look for new photos of it in the days that follow. You will definitely not see Juno, but you can see Europa, and Jupiter's other three large moons, any night with any telescope and even 10x tripod-mounted binoculars (unless a moon is behind or in front of Jupiter). Why not look at Europa on the 29th at the same time Juno is looking at it? And then look at the moons on following nights and enjoy their eternal dance.
Be sure to look early on the 29th because Europa is moving fast enough to watch it move, and at 9:50 MDT it moves behind Jupiter and is "occulted" by the planet. It's behind Jupiter until it pops back into view at 12:34 a.m.
You can know which moon is which with one of many astronomy apps (my favorite and the one I use for diagrams that accompany my Sky Reports is SkySafari, but others will do the job) or as a second choice a website like https://shallowsky.com/galilean/. Europa is so interesting a moon that there are plans in two years to launch the Europa Clipper spacecraft to orbit it. Google can tell you about Europa and the other fascinating moons; each is unique in its own way.
The third and final planet out tonight is Mars, which rises before midnight, in Taurus, where there are many bright stars in its vicinity. It's brighter than them all except Sirius, which rises toward 3 a.m. Mars' orange color makes it unmistakable, although Aldebaran and Betelgeuse nearby attempt to compete. Mars is growing closer and brighter by the week.
Juno is the spacecraft in orbit around Jupiter, but another Juno is the third asteroid discovered, and it's roughly midway between Jupiter and Saturn. At 8th magnitude you can barely see it in binoculars. A finding chart is at www.heavens-above.com.
Our moon is only 3° from the bright red star Antares in Scorpius on the evening of the 30th, and you can see both together in binoculars.
---
The Sky Report is presented as a public service by the Stellar Vista Observatory, a nonprofit organization based in Kanab, Utah, which provides opportunities for people to observe, appreciate, and comprehend our starry night sky. Additional information is at www.stellarvistaobservatory.org. Send questions and comments to John@StargazingAdventures.org.
John Mosley was Program Supervisor of the Griffith Observatory in Los Angeles for 27 years and is the author of "Stargazing for Beginners" and "Stargazing with Binoculars and Telescopes". He and his wife live in St. George where he continues to stargaze from his retirement home while serving on the advisory committee for Stellar Vista Observatory.
Stellar Vista Observatory provides portable telescopes and tripod mounted binocular kits on loan for free to residents and visitors in Kane County. Enhance your enjoyment of the night sky! For details or to request a loan, visit https://stellarvistaobservatory.org/discover-the-night-sky/ or drop in to the Kane County Office of Tourism.