Dec 20
Sky Report: December 21 – December 27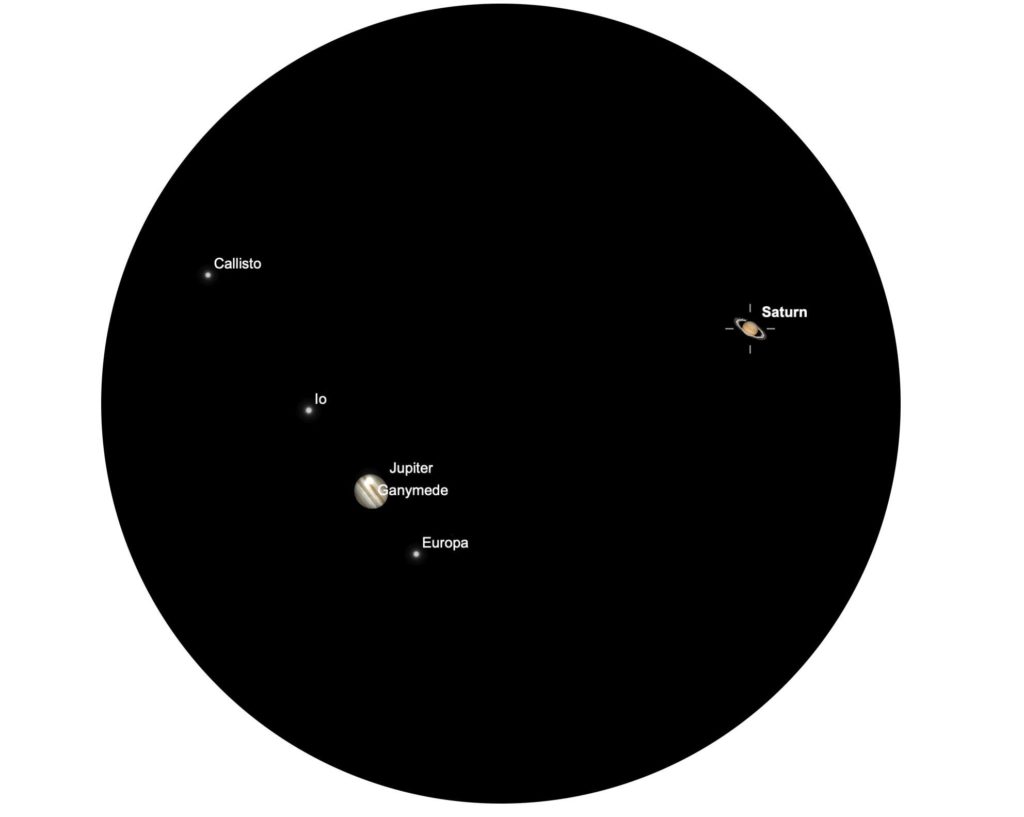 Jupiter has been approaching Saturn for months, and on the 21st they're at their closest – a scant 1/10° a half-hour after sunset. Their separation is 1/5 the diameter of the full moon, although of course Saturn is far beyond Jupiter. This is the closest they've been since 1623, when Galileo was still alive; the next time will be in 2080. People with excellent eyesight will see them as two objects, one 12 times brighter than the other, but some folk will see them as single.
The news media will focus on the 21st, but they appear as a "double planet" for weeks. Now they'll slowly separate as Jupiter continues on eastward, leaving Saturn behind. On Christmas Day they're still only 1/2° apart. Readers of the Sky Report have been following these two planets for months and will continue to follow them as they remain astonishingly close for the next week. But they're sinking in the west day by day and we'll lose them early next month. With high-power tripod-mounted binoculars you'll see Jupiter's largest moons but you need a telescope to see Saturn's rings.
December 21 is also the date of the winter solstice – the day when the sun follows its southernmost path across the sky, rising and setting as far to the south as it will all year. It's also the shortest day of the year, although the day's length changes little during all of December and the first week of January. It's a day that was celebrated around the world, at least in the northern hemisphere, when the sun was at its "weakest" and people wanted it to revive and to return to a more northernly path. Many of our modern holiday customs involving lights and green plants trace their origins to ancient pagan solstice celebrations. The moment of the solstice is 3:03 a.m. MST.
Mars was closest in October but it's still brighter than almost any star, riding high in the southeast as darkness falls. Its orange color gives it away. Mars is highest at 8 p.m. and it sets at 2 a.m. The moon is 6° below Mars on the evening of the 23rd.
Venus has been a constant sight in the morning sky but we'll lose it soon. It's moving around behind the sun, and this week it rises less than 2 hours before the sun where it can be a pretty sight in morning twilight.
Image Credit: Sky Safari
---
The Sky Report is presented as a public service by the Stellar Vista Observatory, a nonprofit organization based in Kanab, Utah, which provides opportunities for people to observe, appreciate, and comprehend our starry night sky. Additional information is at www.stellarvistaobservatory.org. Send questions and comments to
John@StargazingAdventures.org.