Nov 15
Sky Report: November 16 – November 22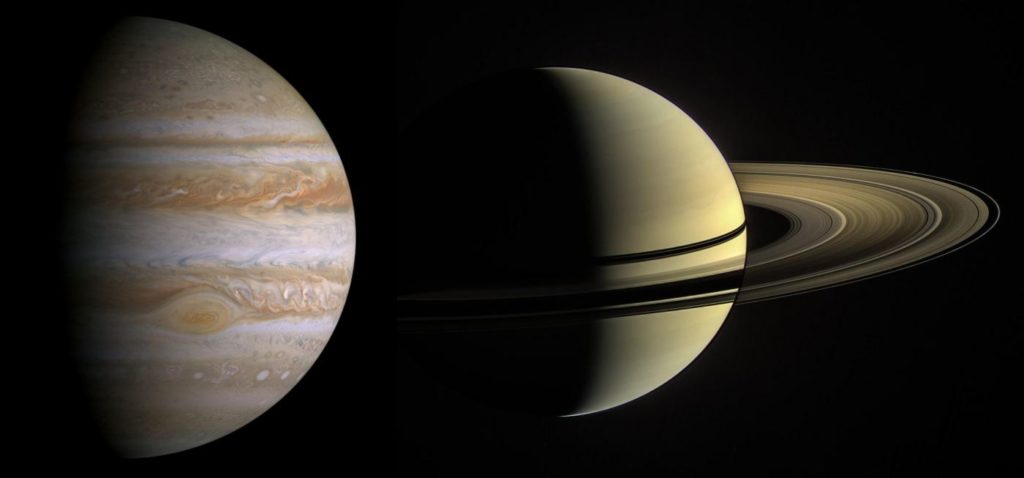 For months Jupiter and Saturn have been near each other in the evening sky, and they're still there – now a quarter of the way up the southwest sky as darkness falls. Jupiter is brilliant and fainter Saturn is just 4° to the upper left of Jupiter. They're a nice pair that are growing closer week by week, and they'll be at their closest – much closer than now – in one month. They comfortably fit in the field of view of binoculars – a rare chance to see two planets simultaneously in binoculars. Hold them steady and you might spot Jupiter's four largest moons, but Saturn's rings need about 30 power to become barely visible.
Mars is not quite as bright as Jupiter, but it's still far brighter than any star – and oranger too — and you'll see it almost halfway up the southeast sky as the night begins. It's at its highest at 10 p.m., and it sets at 4 a.m. Until Venus rises 90 minutes later there are no bright planets in the sky. Mars is 52 million miles away – not as close as it was six weeks ago but still closer and brighter than it will be for the next two years. Mars is in Pisces, a large constellation with no bright stars.
Venus and Mercury are in the morning sky. Venus remains brilliant and you can't miss it, but you can easily miss much fainter Mercury which is about 14° below Venus at the 7 o'clock position. You'll need a dead-flat horizon to see Mercury. Both Venus and Mercury are on the far side of the sun. The bright star to the right of Venus is Spica in Virgo.
You'll read a lot about the Leonid Meteor Shower which peaks on the morning of the 17th, but it's all hype. Don't believe it. You'll be lucky to see a few meteors an hour, so unless you specialize in meteor showers, give it a miss. Wait for the Geminids next month which are worth watching if you can brave the cold.
If you have a small telescope point it to Comet ATLAS C/2020 M3 now visible in Orion. Google the comet's full name for maps and details. Meanwhile Comet Erasmus C/2020 S3 is brightening and is also within reach of small telescopes just before sunrise for the next few weeks only. It's roughly 20° to the right of Venus.
Photo Credit: NASA/JPL/University of Arizona/Space Science Institute
---
The Sky Report is presented as a public service by the Stellar Vista Observatory, a nonprofit organization based in Kanab, Utah, which provides opportunities for people to observe, appreciate, and comprehend our starry night sky. Additional information is at www.stellarvistaobservatory.org. Send questions and comments to
John@StargazingAdventures.org.