Nov 1
Sky Report: November 2 – November 8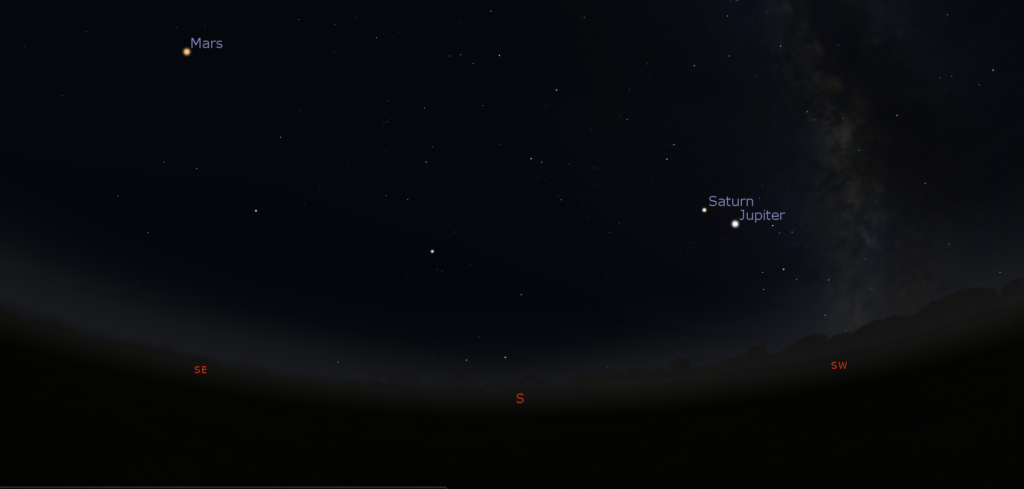 The time changed by one hour on Sunday morning the 1st, and now it gets dark one hour earlier – good for stargazing – and it gets light one hour earlier – bad for sleeping in. You don't have to stay up late to see the stars and planets.
We have three wonderfully bright planets in the evening sky and one even brighter in the morning, so the bounty of planets continues. But as I've said, enjoy it now, it won't last.
The two bright planets in the evening are Jupiter and Mars. They're equally bright and they're on opposite sides of the sky, Mars in the east and Jupiter in the west. You'll immediately see the color contrast – Mars is reddish because of slight amounts of iron discolor its surface rocks, like in southern Utah, and Jupiter is basically colorless, reflecting the sun's white light with little alteration.
Mars is rising while Jupiter is setting and you can see the sky turn in a short time. At 11 o'clock Mars is halfway up the southern sky.
Here's a test of your observing skill: How early can you see Jupiter? I've seen it 4 minutes after the time of actual sunset. Find it one evening shortly after dark, mark the spot, and look there earlier the next evening and then earlier still on following evenings. Uncle Google can tell you the exact time of sunset for your location; for Kanab on the 5th it is 5:28 p.m.
Saturn is much fainter than Jupiter and it's immediately to Jupiter's left. Watch their separation decrease week by week during the next six weeks; as I'm fond of saying, there is motion in the sky and with patience you can appreciate it. On the 2nd they're 5° apart and on the 8th they're 4½° apart, a change you can detect if you look carefully. Remember, the width of a finger held at arm's length is 2°. Both are in western Sagittarius, a summer constellation, and you can see the two of them together in most binoculars.
The brightest planet, Venus, rises around 4:30, but as dawn begins it's nowhere near as high as it was even two weeks ago. Venus is moving behind the sun, and this coming winter and spring it will be behind the sun and invisible, returning to the evening sky next summer. For several months we won't see it at all.
Photo Credit: Stellarium
---
The Sky Report is presented as a public service by the Stellar Vista Observatory, a nonprofit organization based in Kanab, Utah, which provides opportunities for people to observe, appreciate, and comprehend our starry night sky. Additional information is at www.stellarvistaobservatory.org. Send questions and comments to John@StargazingAdventures.org.