Sep 25
Sky Report: September 28 – October 4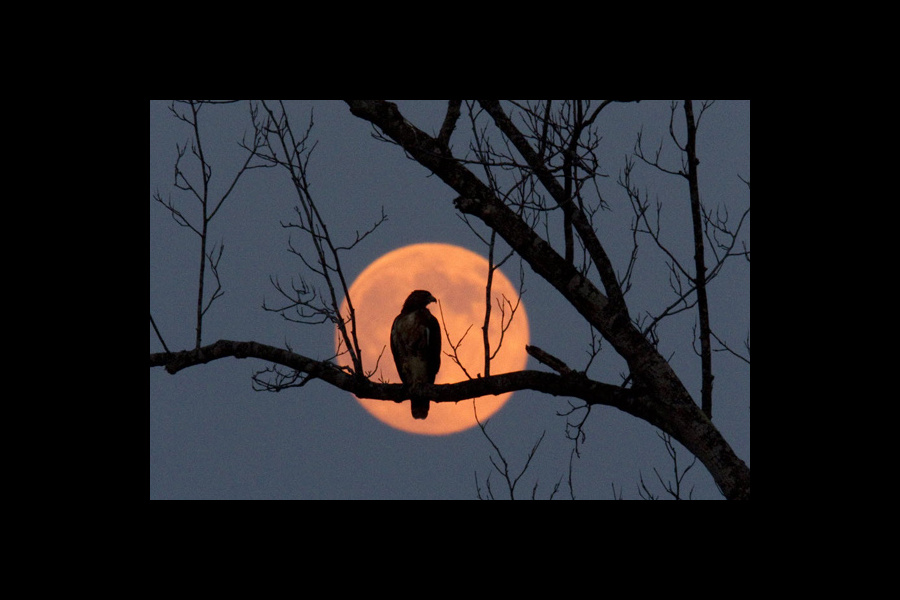 The full moon on Thursday, October 1st (at 3:05 pm MDT for those who need precision) is the Harvest Moon, which so called because its light helped farmers harvest their fields into the night, especially important before tractors had headlights. The Harvest Moon is the full moon closest to the autumn equinox (discussed in last week's Sky Report) which fell on September 22. On average the moon rises about 50 minutes later each night, but the Harvest Moon rises only about 25 minutes later at the latitude of Kanab and only 15 minutes later at the latitude of London, so it seems as if we have a full moon rising at almost the same time shortly after sunset several nights in a row. For more information go to: https://earthsky.org/?p=2467.
The very bright object that is one-third of the way up the southern sky at 8 pm is the giant planet Jupiter. Jupiter doesn't change its brightness month to month or year to year, and neither does Saturn, which is immediately to the left and is as bright as a bright star. Their distance from earth never changes by a significant amount.
Mars rises due east at 8 pm, and it does change its brightness, by a great amount, month to month. Typically it's fairly distant and comparable to Saturn in brightness, but when it comes close to earth, as it does every 26 months, it briefly outshines Jupiter by a small amount for about a month.
In October the earth catches and passes Mars, and Mars is especially close and bright. You'll read about it widely in the news media – and of course right here.
The bright nearly-harvest moon passes 1½ degree from Mars on Friday, October 2nd. That's less than the width of a finger held at arm's length, so mark your calendar and be sure to see it.
Venus is brilliant as the "Morning Star" in the east from about 4:30 am until sunrise.
The bright star Regulus is a scant ½° from Venus on the mornings of the 2nd and 3rd, switching from one side to the other in that one day. Of course, Venus is the one doing the moving. Regulus is one of the brightest stars but even so Venus outshines it by 40 times. The winter constellations Orion, Taurus, Gemini, Canis Major, etc. are above and to the right of Venus.
---
The Sky Report is presented as a public service by the Stellar Vista Observatory, a nonprofit organization based in Kanab, Utah, which provides opportunities for people to observe, appreciate, and comprehend our starry night sky. Additional information is at www.stellarvistaobservatory.org. Send questions and comments to John@StargazingAdventures.org.