Aug 4
Stellar Vista Observatory Sky Report August 3 – August 9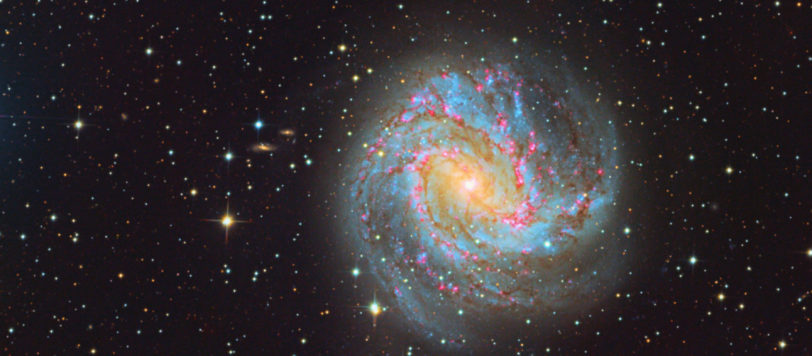 Comet NEOWISE amazed everyone as the brightest comet in two decades, and it remains visible although now you'll need both binoculars and a dark sky to see it – and a good finding chart. It's fading as it heads back to the outer solar system whence it came. This week it's in the early evening sky below Arcturus, the bright star low in the west after sunset, roughly half-way between Arcturus and the horizon at 10 PM. Bright moonlight will interfere until about the 6th, when the moon rises late.
If you have a telescope, look for Comet PANSTARRS, which is about 1/5th as bright, a short distance above NEOWISE. Finding charts for both comets are at Heavens-Above.com and the many free and inexpensive planetarium programs available for your smartphone (I recommend SkySafari).
Far to the left of the two faint comets is the brightest object in the evening sky (other than the moon): the giant planet Jupiter, at 10:00 low in the southeast. Jupiter rises approximately at sunset and is visible the entire night.
Immediately to the left of Jupiter is Saturn. Saturn is a bit smaller and twice as distant, so it is 10 times fainter. Both are in Sagittarius, to the left of the richest part of the Milky Way.
Mars rises at midnight, and it's midway between Jupiter and Saturn in brightness. The earth is catching Mars as we orbit the sun faster on an inside path, and Mars is growing brighter by the week. When we catch and pass it in early October Mars will be almost 4 times brighter than now and it will rise at sunset, and then "the red planet" will be conspicuous the entire night. Mars is in Pisces, a constellation with no bright stars. On the evening of the 8th the moon is 1½ degrees, or three moon-diameters, below Mars.
The last planet to rise tonight is the "morning star" Venus, which rises by 4 AM and is brilliant low in the east as the sky brightens with the approaching dawn. You can see Venus well after sunrise; keep track of it as the sky brightens and see how long you can follow it. You can see Venus well after sunrise and even through the day with your eye alone if you know where to look.
Next week: the Perseid Meteor Shower which peaks on the evening of the 11th.
---
The Sky Report is presented as a public service by the Stellar Vista Observatory, a nonprofit organization based in Kanab, Utah, which provides opportunities for people to observe, appreciate, and comprehend our starry night sky. Additional information is at www.stellarvistaobservatory.org. Send questions and comments to
John@StargazingAdventures.org.